LOADS OF STALLS SELLING NEW GIFTS, CHRISTMAS PRODUCTS,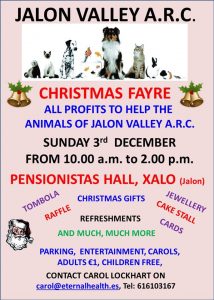 REFRESHMENTS, CLOTHES – THE LIST IS ENDLESS. PLEASE COME AND SUPPORT THIS HARD WORKING LOCAL CHARITY AND HELP THE RESCUED ANIMALS ACROSS THE JALON VALLEY.
ALL PROFITS FROM THE FAIR GO TO THEIR CARE.
ENTERTAINMENT BY THE EVER POPULAR MATT MASON PLUS THE U3A POPSTERS & UKULELE GROUP.
CALLING ALL BAKERS – IF YOU WOULD LIKE TO DONATE A CAKE, QUICHE, SAUSAGE ROLLS, MINCE PIES OR WHATEVER FOR US TO SELL ON OUR REFRESHMENT STAND THAT WOULD BE GREATLY APPRECIATED.
HELPERS NEEDED AT 8 AM ON 3RD DECEMBER TO HELP SET UP THE GAZEBOS.
COME ALONG AND HAVE A HAPPY AND FESTIVE TIME.