It's The Christmas Fair in Salon Canor!!!!!!
This popular event will be held on the 6th Dec. in Salon Canor, Calle Assagador, Teulada 03724.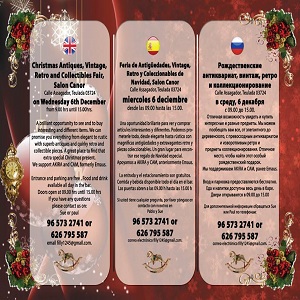 It's a full house of exhibitors so lots of goodies to see, so much variety and oodles of quality. It's a great day out and the perfect place to find that Christmas gift for the person who is difficult to buy for.
There is food and drink available all day at the bar and parking and entrance are free.
We support AKIRA , CAM (was EMAUS) AND THE Charity Shop Calpe who will be represented at the fair and selling items generously donated to them by their followers.
Doors open at 9.00hrs until 15.00hrs.
We look forward to seeing you and any queries to Paul and Sue on 965732741 or 626795587.