Reported this week by El Pais
"Facebook Spain, the Spanish subsidiary of the US social media giant, reported net losses of nearly €1 million in 2017, a 96% rise from the previous year. But its auditor, EY, has warned about the risk that Spanish tax authorities will ultimately sanction the company over its strategy of transferring revenues to Ireland.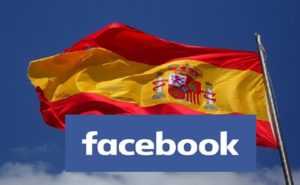 This kind of corporate strategy is common for global tech companies. Many multinationals use similar tactics to move profits to low-tax jurisdictions such as Ireland, the Netherlands or Luxembourg.
The company reported a notable increase in personnel expenses due to "commissions, bonuses and other employee benefits"
Although this financial engineering is theoretically legal, EU authorities have expressed concern that some companies are abusing legal loopholes. The European Commission is currently waging a battle "to ensure that digital business activities are taxed in a fair and growth-friendly way in the EU."
Facebook Spain acts merely as an intermediary of the group's Irish branch, Facebook Ireland Limited, providing the latter with "sales and marketing services support." The Spanish subsidiary, which obtains profits from its activities in Spain, declared €957,829 in losses in 2017, according to annual accounts filed with the Business Registry.
This spike in losses is due to higher advertising costs, which reached €1.67 million, the filings show. There was also a notable increase in personnel expenses due to "commissions, bonuses and other employee benefits."
The Spanish subsidiary is 100% owned by the US-based Facebook Global Holdings II, LLC, and it systematically routes revenues through Facebook's Irish subsidiary.
But the European Commission has warned Facebook that it is "losing its patience" over its tax strategies. Meanwhile, tax agencies in European countries have begun monitoring digital companies more closely.
Faced with growing international pressure, Facebook said that starting in 2018 it will begin switching to a local selling system, paying taxes in the country where sales are made rather than transferring revenues to Ireland, where it pays lower taxes. In other words, Facebook will pay taxes in Spain, for its business activity in Spain.