Dumbo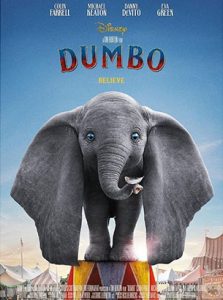 Dumbo is a small elephant born in the circus of Max Medici (Danny DeVito). His huge ears quickly make him the laughingstock of everyone except two young children, Joe (Finley Hobbins) and Milly (Nico Parker), the children of Holt Farrier (Colin Farrell), a former circus star who has just returned from war and that you must face the changes of your life while dealing with this little animal. But the life of this tender pachyderm will change when he discovers that precisely thanks to his big ears he can fly. At that moment, the enterprising VA Vandevere (Michael Keaton) and the aerial acrobat Colette Marchant (Eva Green) will try to turn him into a star.
DIRECTOR: Tim Burton
DURATION: 1h 52 min
CAST: Colin Farrell, Danny DeVito, Michael Keaton.
SHOW TIMES
TUESDAY 9TH APRIL  20.00
WEDNESDAY 10TH APRIL 20.00
THURSDAY 11TH APRIL 17.30 AND 20.00
SHAZAM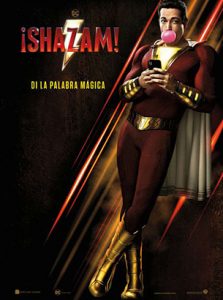 We all have a superhero inside of us. It only takes a little magic to get it out. This is what happens to Billy Batson (Asher Angel), a young orphan of 14 years, normal and current, which changes his life a meeting with an old sorcerer. And, from now on, every time Billy yells the word 'Shazam!' he becomes the adult superhero Shazam (Zachary Levi). Although with a child inside, Shazam's powerful body does what any teenager with superpowers would do: have a good time! Can fly? Do you have X-ray vision? Can you throw lightning bolts from your hands? Can you skip the exams? Shazam will put his skills to the limit with the imprudence of a child.
DIRECTOR: David F. Sandberg
DURATION: 2h 12 min
CAST: Zachary Levi, Asher Angel, Mark Strong.
SHOWTIMES:
FRIDAY 12TH APRIL AT 17.30
SATURDAY 13TH APRIL AT 17.30
BECOMING ASTRID
Biopic of the Swedish writer Astrid Lindgren (Alba August), author of the mythical character of Pipi Calzaslargas. The film takes a tour through his life, from his origins in a small rural town in Vimmerby, to his departure as a volunteer in the writing of a local newspaper. Years later she moved to Stockholm, where she began studying shorthand and became a single mother at eighteen. The story of what would be a writer known throughout the world, and one of the most inspiring women of our time. A woman who, despite the conditioning of her time and a religious education, decided to break with the norms of society and obey only her heart.
DIRECTOR: Pernille Fischer Christensen
DURATION: 2h 03 min
CAST: Alba August, Maria Bonnevie, Trine Dyrholm.
SHOWTIME
MONDAY 15TH APRIL AT 20.00