La Guardia Civil have today seized 27 kilos of marijuana from a passenger at Alicante Airport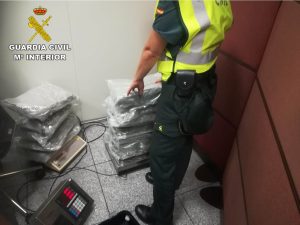 The detainee, a 48 year old Spanish man, appeared confident that it would not be discovered since it was on board a community flight (bound for Eindhoven) and therefore, without customs control. (WRONG!!!)
ODAIFI agents of La Guardia checked the hold of the plane finding two suitcases, which gave off the distinct aroma of marijuana and were removed from the rest of the luggage.
Through the labeling of the suitcases, they identified the passenger who was already seated, aboard the plane, which was ready to take off.
The agents transferred the passenger, together with the luggage, to the official offices to proceed with the opening of the baggage, which, it transpired,  contained 24 laminated packages with a vegetable substance inside, which turned out to be marijuana.
The total weight of the drug amounted to 27,320 kilograms, which in the market could have a value of about 40,000 euros. The passenger was duly arrested and brought to justice (Court No. 3 of Elche), accused of a crime against public health, being finally admitted to preventive detention.