Strong deployment of the Civil Guard in an operation against the sale of drugs in Xàbia
Agents of the Citizen Security Unit of Alicante have broken into a house in the neighborhood of Thiviers in Javea and will also be undertaking similar operations in other towns of the Marina Alta.
The neighbours of the usually quiet neighbourhood of Thiviers de Xàbia have woken up this morning startled. Several vehicles of the Usecic (Citizen Security Unit) of the Civil Guard of Alicante have arrived at 7.30 am at C/Juan Ramón Jiméne. The agents, equipped with shields and riot gear, have burst the door of the third floor of one of the farms on the street. They entered the house where a middle-aged man lives, who is suspected of selling drugs, according to the sources consulted. In fact, neighbors of the street have also indicated to Levante reporter that there had been a lot of movement of people coming and going in the property.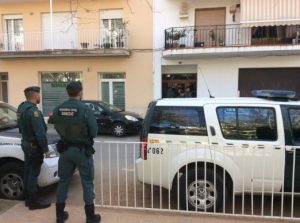 Now more entries could be made in other homes in the Marina Alta. Hence, the operation is carried out by a specialised unit from Alicante. In the raid in Xàbia, 20 or so of agents of the Usecic were deployed.