An event hosted by Bous en Pau on 15th June at 8pm at The Casa Cultura in Denia.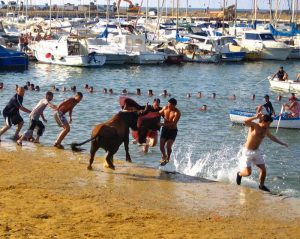 "A key question that has been often contested is whether the animals suffer whilst taking part in Bous a la Mar. 
We are organising a debate in the hope to open communication between the two opposing sides and to, hopefully, come to a conclusion as to whether the bulls do, in fact, suffer. 
The debate will be held at Casa de Cultura on the 15th June 2018. Entry is free. Seating is limited. 
We are looking for two, elected, participants to come forward and represent the side which uphold the idea that the bulls do not suffer whilst taking part in Bous a la Mar. The deadline to request participation is 31st of May. Please contact us via this FB page with the entrants. 
If more then two people are put forward, then after the deadline we will choose from the elected. However, if no one is suggested, then we will take it upon ourselves, as organisers of the event, to find two people. 
We will be updating this event with more information as it becomes available."
Valencià:
La pregunta que sempre surt quan parlem dels Bous a la mar és si els animals pateixen quan fan aquestes activitats.
Hem organitzat un debat amb l'esperança d'obrir una via de comunicació entre les dos parts confrontades en aquest conflicte, per a intentar treure una conclusió sobre si els animals pateixen o no durant aquestes activitats.
El debat es realitzará el dia 15 de juny a les 20:00 al Saló d'actes de la Casa de Cultura de Dénia. L'entrada serà lliure i gratuita fins omplir l'aforament. Es prega arribar amb anterioritat per a no interrompre.
Ara mateix estem buscant a dos persones que d'alguna manera puguen representar a la part que defensa que els bous no pateixen durant l'execució dels Bous a la Mar. La data límit per a apuntar-se per a participar és el 31 de maig. Per favor, qui estiga interessat/da en defensar aquesta posició amb dades i arguments en un debat, que contacte amb nosaltres a través d'aquesta pàgina de Facebook.
Si més de dos persones es postulen per a participar, després de la data límit, l'organització realitzarà una selecció de dos persones d'entre els que hi haja.
Actualitzarem aquest esdeveniment amb més informació conforme vaja confirmant-se.
Castellano:
La pregunta que siempre surge cuando hablamos de los Bous a la Mar, es si los animales sufren cuando hacen estas actividades.
Hemos organizado un debate con la esperanza de abrir una via de comunicación entre las dos partes enfrentadas en este conflicto, para intentar sacar una conclusión sobre si los animales sufren o no durante estas actividades.
El debate se realizará el día 15 de junio a las 20:00 en el Salón de Actos de la Casa de Cultura de Dénia. La entrada será libre y gratuita hasta completar el aforo. Se ruega llegar con anterioridad para no interrumpir.
Ahora mismo estamos buscando a dos personas que de alguna manera puedan representar a la parte que defiende que los toros no sufren durante la ejecución de los Bous a la Mar. La data límite para apuntarse es el 31 de mayo. Por favor, quien esté interesado/a en defender ésta posición con datos y argumentos en un debate, que contacte con nosotros a través de ésta página de facebook.
Si más de dos personas se postulan para participar, después de la fecha límite, la organización realizará una selección de 2 personas entre las que haya.