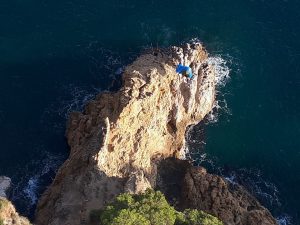 Xabia Meravellosa Tells Us The Story
"The steep and dangerous cliffs of this coastline, close to the Cabo La Nao could never deter the men of Javea and the neighbouring villages, (especially those of Poble Nou and Benitatchell), to climb by these rocks and fish with traditional fishing tools made of cane and "Fitora" (Trident), for the rich species that these deep, clean waters produce.

In this photo there is a small blue tent, where intrepid fisherman spent the night with their dogs. Now that takes courage!!!" By Fernando Albi Oliver. 
Frank Lives tell us more:- 
"I often heard stories about the famous "ropes" that were hung from Los Cabos (above the Nao) where I went to fish and of those who died for doing just that, a many years ago in the Cabo la Nao.  Parts of the anchors where they were dropped at night by the fishermen can still be seen now.
My grandfather, at the end of the war, took refuge in the cave " Dels Orgens " which was under one of the " fishings " ( Which is what they were called), for more than a week to avoid being taken to the battle of the vall de uxó (he was then over 40 years and did not want to engage in war when it seemed that all was lost).
Video: Costa Blanca Digital
Drone view Isla de Portichol & Cap de La Nao

Drone view Isla de Portichol & Cap de La NaoPhoto: Monsalo- Cap de la Nau – Cabo de la Nao Lo que se ve al fondo es Eivissa – Ibiza / What you see in the background is Eivissa – IbizaVideo: Rafael Devesa Zaragocí / Aerial Drone service- Isla de Portichol & Cap de La Nao drone viewBlogs: Costa Blanca Digital- Cabo de La Nao: http://costablanca.digital/places/javea/cap-de-la-nao-viewpoint/#gsc.tab=0- Isla Porticholl: http://costablanca.digital/places/mar-azul/isla-del-portitxol-viewpoint/#gsc.tab=0

Gepostet von Costa Blanca Digital am Sonntag, 2. Oktober 2016