A new and very unique business has opened in Benitachell and joined us on the Javea Connect Business Hub .😊
Take a look and see what they have to offer
We are one of a kind!
With our unique presence on the Costa Blanca, we offer our members the possibility to enjoy their classic car experience in an exclusive "members only" club environment, where we host weekly events and meetings.
We offer a wide range of services to classic car owners and driving experiences to classic car enthusiasts as well as a selection of beautiful cars to actually purchase if they become hooked! Our ambition is to enable everyone to enjoy their classic car passion in the privileged sunny environment of the Costa Blanca and mingle with likeminded aficionado's.
The many services we offer:-
Driving Tours
Come join us for a half, or full day tour and enjoy a nostalgic drive through the majestic mountains or along the scenic coastline of the Costa Blanca, choose from our collection of classic cars and wind back the motoring clock 50 years…
Car Storage
If your car is your pride and joy and requires a very secure and dry home where it is treated with the same care and attention that it deserves, please review the VIP storage packages we offer.
Sales
We only accept up to 7 carefully selected classic cars in our showroom, they must rate from 1-3 in concours ratings (1-Excellent, 2-Fine, 3-Very Good) and must have passed our 120 point inspection.
Drivers Club 55
Visit Club 55 a private club for automotive enthusiasts and motorsport aficionado's, where you can meet and chat with like minded people, we have a large screen for motorsport events and organise local informal tours and events.
Services and Inspections
We offer premium valet and detailing services, take a look at our menu of services available. We also have a classic car specialist technician that will perform a 120 point inspection and issue a full report on your car.
Products
We are pleased to offer some beautiful logo'd furniture, ideal for a bar or man cave, tailored to your specific marque of choice. We also present a selection of stunning works of art from the renowned artist Christophe Mandallaz, with a theme incorporating motoring icons.
Events
Live Motorsport viewing (F1, Moto GP, Le Mans, Good Wood), Sunday morning Cars & Coffee meetings, Charity Events, Wednesday Afterwork "Pit Stop", …
We present several regular events you can attend, each and every month.
Join the club and let us welcome you at Club 55 Classic Cars.
Clubb 55 are also hosting a big event on 4th July with proceeds being donated to Make-a-Smile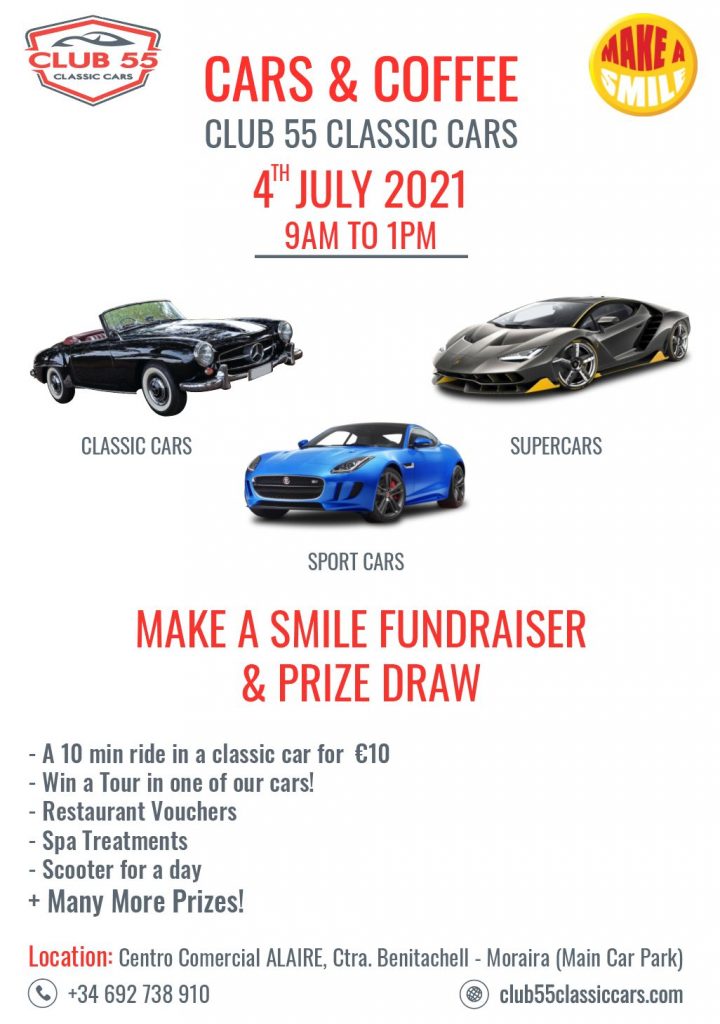 CONTACT INFORMATION
Phone: (+34) 692 73 89 10
Website: View Club 55 site
Facebook: Click for Facebook Page
Email: [email protected]