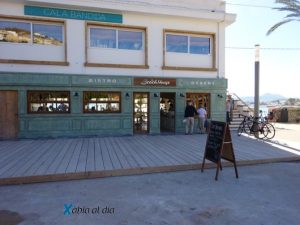 Xabia al Dia reported last week that two people who fell in love with Javea are making a big investment in the town with various projects. One of them, The Beach House Bistro & Bakery in the old Casa Ángel of the port of Xàbia was opened last week and has has apparently caused a sensation.
Behind the Beach House is a business concept that goes "beyond a mere restaurant", and was explained by Pedro Ortega, the restaurant manager, as an intention to introduce the concept of "slow food." It will also have a small spa area, a nail bar and a terrace at the top of the building (above Cala Bandida). Ortega commented that there will also be a healthy massage and food area, which will allow visitors to learn to eat well.
Inside, wood dominates the decoration in what Ortega defined as the return to the origins "to the bars that were in France in the 50s". Small wooden tables that come from Malaysia and Indonesia, are combined with the cane furniture of the roof top terrace and large windows at ground level that give the feeling of floating on the sea.
All this, with a broad menu based on local meat and fish products and "directly from the farm".
The wine selection is also 100% Spanish. In this regard, he pointed out that in the Beach House they want to give the client "wine options that are neither Ribera del Duero nor Riojas but are equal or better" and wines from eco-sustainable wineries.
The project will continue in February with the opening of the terrace on the second floor of the port building, and a hotel that is under construction on the Paseo de Marina Española.
Find the new restaurant on their Facebook Page here