UPDATE FROM JACKY HAZELEGER…
This will be the BIGGEST, BEST and busiest event of 2017!!
We are fully booked for the BBQ and have no tables left!
Ofcourse you can come along and drink, dance and enjoy a tapa, but bring your own chair or put on your daaaancing shoes 
Javea will be talking about this one for many years to come (lol that might have something to do with the surprise acts)
See ya!!! Javea Park rocks!!!
Original post……
A great evening and get together for animals lovers in Javea. All money raised will go straight to the Javea Feral Cats Association and Tanamera Rescue. Both do so much for the animals, but have no shelter, support from town hall or government, or charity shop to raise money. Thats why they have teamed up to raise money together 
To pay the huge vets bills, they need your support.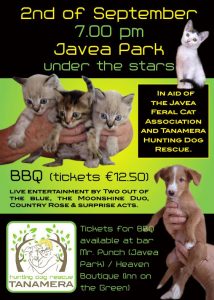 Book and pay your BBQ tickets now at Heaven Boutique or Bar Mr. Punch. There is a limited amount of tables only. 12,50 pp only! Does not include drinks.
Thank you!