NEW – an open-air terrace where passengers can enjoy their drinks with views of the airfield . This area has been designed to improve the travelling experience of customers who use the terminal.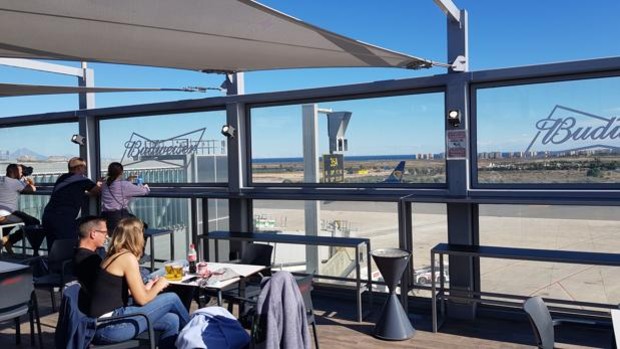 The terrace covers an area of ​​130 m2 and is located at the corner of the terminal building, at a high point above the aircraft parking platform.It is also equipped with large windows which give it great visibility . In this way, the restaurant area of ​​the Alicante terminal has been expanded where meals are also offered and that has a total area (not including the terrace) of 317 m2.
With this new facility, Alicante-Elche Airport is equipped with the only point suitable for smokers in the boarding area, in addition to offering an open-air space and a landscape in which passengers can admire the landing and take-off maneuvers of the planes with the Mediterranean sea in the background .
Also, thinking about the good Alicante weather, awnings have been incorporated that offer protection against the sun.