On Sunday September 1st, The Costablanca Bike Show expects to attract more than a thousand Harley Davidson motorcycles, and other brands, many of them custom made. This Bike Show is one of the busiest motorcycle concentrations in the whole region.
The streets of l'Alfàs del Pi will be filled with color and noise as these mythical Harley Davidson motorcycles and other brands pass through. As in previous editions, the Eucalyptus Park, in Albir, will become the centre of gathering. In excess of a thousand motorcycles will make this day a huge and successful party for all attendees and fans of the motor world.
The planned program of activities will begin at nine o'clock in the morning with the reception of the motorcycles, then the lunch bar will be opened in the Eucalyptus park grounds, where several musical performances will have been prepared on stage by the Happy Freuds, Reverend Wetfinger and London Blues Company groups. Among the activities of the Costa Blanca Bike Show there will also be raffles for biker gifts.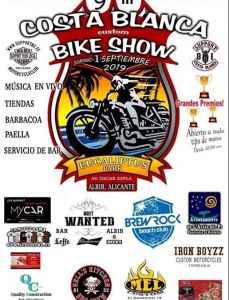 On the last weekend of the tourist summer, thousands of people will have the opportunity to stroll around inside the pleasant, shady enclosure housing a selection of the best Harley Davidsons.