Any Wannabes Out There??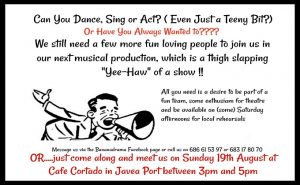 Can you pretend you are someone else for a few hours? Or do you maybe have some backstage/makeup/carpentry/dressmaking skills?
Or, can you just plain sing, act and/or dance and have commitment, a sense of humour and community spirit?
Bananadrama is an amateur theatrical group, formed in 2017 that perform solely for local charities. The cast and crew became a real family team after meeting up through local Facebook group, Javea Connect. They are a fantastic "family" who hope to raise a lot of funds for charity in the future as well as keeping local people entertained for a long time to come.
Would you like to join a group of others who like to learn a few lines, tone up their vocal cords and strut their stuff or even just come join us as an extra or part of the chorus?….All in aid of charity. If so, then we would really like to meet you on Sunday 19th August from 3pm at Cafe Cortado in Javea port. 
Come On…. Join the Banana Gang 🙂 ……………
If you like musicals, take a quick quiz here  🙂