Handsome octogenarian, Gerry Haim will be playing alongside the lovely Janette Galbraith tomorrow 4th May, in Everest Spice in Costa Nova (Javea) at 8pm.
It's an important gig because they are playing on what will be Gerry's 87th Birthday!!!  Janette and Harry have been playing together for over 20 years now and she admits that he has taught her every bit of jazz she knows!!! Bless him  😀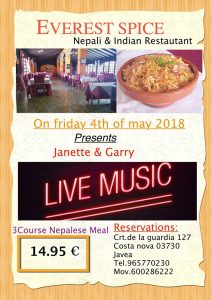 So book a table and go along for one hell of a birthday party at Everest Spice in Cosya Nova, Javea. We are guessing there will be a few surprises as well as some delicious Indian Food.