WEEK 14 of our regular weekend competitions.
You can join in by this week's competition by visiting the Javea Connect Group anytime from around 11m am Saturday. Competitions close at 7pm Sunday evening.
This week's sponsors are….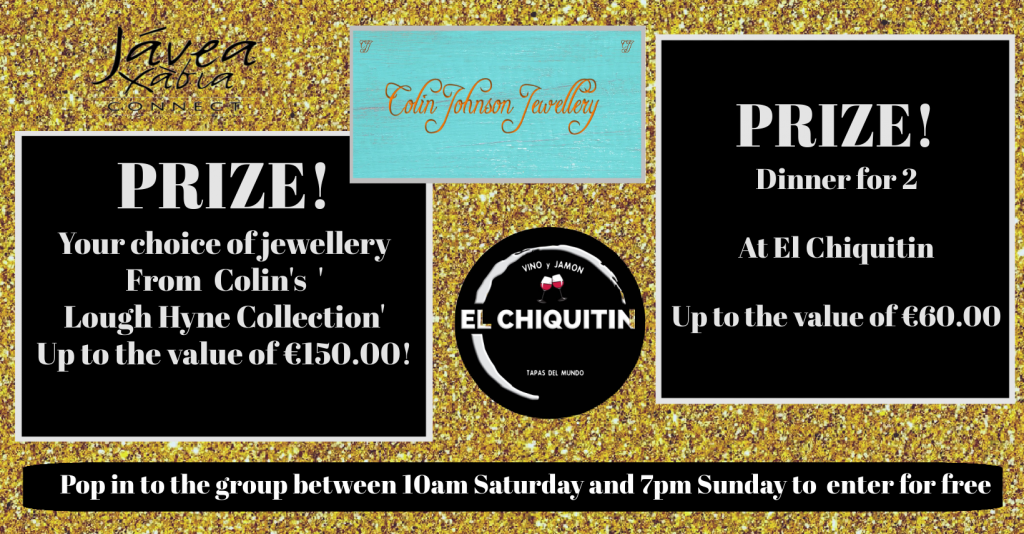 You only need to be a member of the group to enter and win.
We may be able to make a little money for charity at the same time and for that purpose we have set up a Teaming Group.
How Teaming Works – One Euro per month – total transparancy and trust – receipts sent via email.
During the 2020/2021 State of Alarm, many charities and non-profit shelters have suffered in our local area. The following teaming group has been set up by the admin of Javea Connect to raise funds for various local charities and any money raised will be distributed among the following groups and accounts will be published regularly to all supporters.
We promise that all donations received will go to support the following registered charities/associations…..
APAC, APASA, APROP CANCER CARE JAVEA, FRANCISCAN MENS SHELTER, HELP OF MARINA ALTA, JAVEA FERAL CAT ASSOC, MABS. MAKE A SMILE, TANAMERA, TODOS JUNTAS.
Prizes for the future from
K SUD DENTAL
DIVINE BEAUTY
SUMMERHOUSE
MTB TOURS
FRAMEDWITHJ
LYNEE'S CAKE SHACK
JAVEA AUTO SALES
MONTGO VERD
TI AMO
DONNA RANA
AGUAFIX
LA PLAZA
SARA SMITH ART
CLEANING & PROPERTY SVS
HEALING HOMEOPATHY COSTA BLANCA
COLIN JOHNSON JEWELLERY
KATARZYNA KWIATKOWSKA
COASTAL COURIERS
SHELLEY KITCHING
SYLVIEc'S MADE WITH LOVE
CUPCAKE HEAVEN
EL CHIQUITIN
AMERICAN BAR AND RENTAL BAR
VAN DER MEULEN DENTAL
Previous sponsors:-
Specsavers
The Palleteer
Lancashire Bruja
Mindbodyworker – Breda McQuaid
The Nail and Beauty Station.
Bin Buddy
Mundomarino Group
L BARRADA GOUZI
Quick Save Javea
NICOLE2BCOM
SAMS BAKES AND CAKES
HARRISONS CATERING