I'm so excited to help organise another fundraiser walk in November in Jávea. You're all gonna wanna support this one! It's a lovely event in collaboration with Cancer Care Jávea. But, before I get stuck into telling you about that, I must chat a little about some important walking stuff!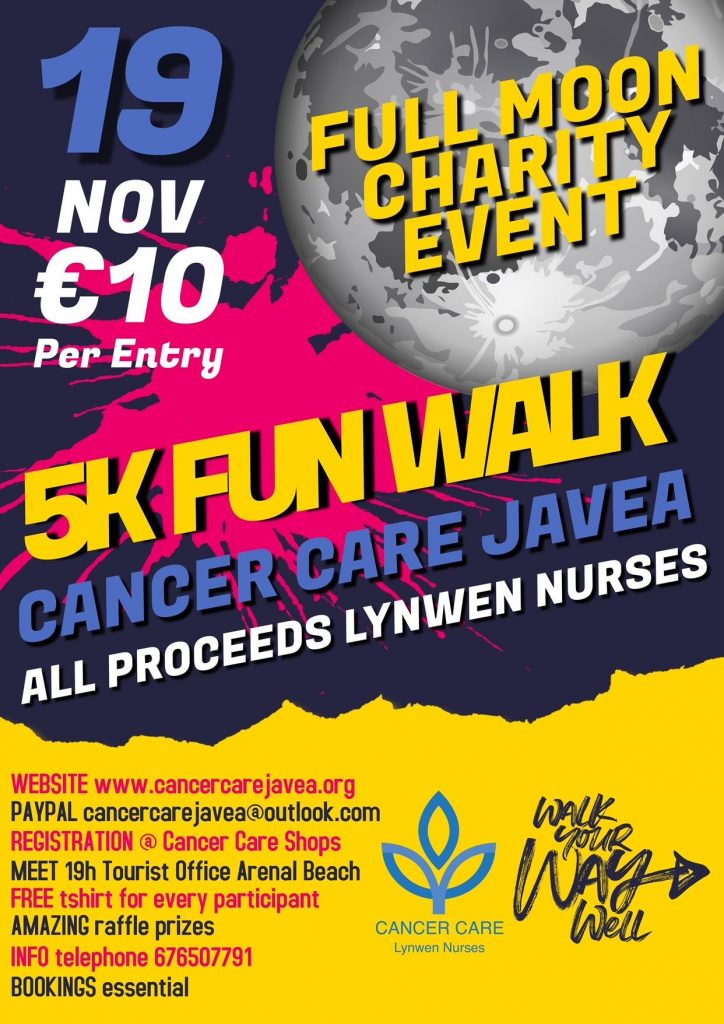 ---
While putting the event together I decided to dig deeper into the fascinating field of "exercise oncology". As the regular FF readers know, I've long been spouting about the direct relationship between Walking and Wellness. Lifestyle medicine is rapidly becoming the hottest topic in the wellness arena and I vouch for it first hand. Embracing good nutrition, quitting toxic habits and incorporating exercise into my life has been a true game changer on numerous levels.
I have been heartened recently to find so much substantiated support for this non pharmaceutical method of caring for yourself. We have much more control than we realise.
In short, research confirms that walking regularly can help you not just SURVIVE but THRIVE during and after cancer. The evidence keeps rolling in! Having walking as a form of fitness in your armoury can be one of your most important cancer treatments. For anyone dealing with a diagnosis or in recovery, that's great news.
Experts also confirm that regular walking can help PREVENT cancer by reducing inflammation, keeping weight under control, and boosting the immune system. It all makes sense right?
In the "olden days" doctors typically advised their cancer patients to rest and avoid physical activity. However, over the past twenty years the use of exercise in cancer treatment and recovery has grown exponentially, especially in the last decade.
There is significant evidence to tell us, with confidence, that those living with and beyond cancer will benefit from being more physically active. Oncologists are at the point in the evolution of this field where they can dose exercise precisely, just as we do with drugs, to address several cancer-related health outcomes. And it is most common to be instructed to go for walks!
An exercise program consisting of a half hour of aerobic exercise three times weekly is sufficient to improve anxiety, depression, fatigue, quality of life, and physical function in cancer survivors. That's extremely motivational to those who want to take more control and incorporate lifestyle medicine into their treatment plan.
And so, there's all manner of good reasons why Cancer Care Jávea have decided a WALKING event is a perfect way to create awareness and raise funds for the amazing Lynwen Nurses. This team of four professional nurses work tirelessly with cancer patients in our area. They offer support, dignity, care and solace to so many of our community in the difficult challenges cancer brings.
This easy 5km FULL MOON WALK by the sea will be great fun. It's suitable for all ages and fitness levels. Your registration fee goes directly to support the amazing cause. Keep fit, have fun AND help others all in the one evening!
The 10€ registration should be made in advance to secure your place and you can pay directly at the Cancer Care charity shop in La Plaza or Jávea Park. You can also pay with PayPal [email protected] or on the website www.cancercarejavea.org. Don't forget to include your name and "Full Moon Walk". Please don't hesitate to give me a call if you have any questions +34 676 507 791. I can't wait to join you in this great opportunity to Walk Your Way Well.