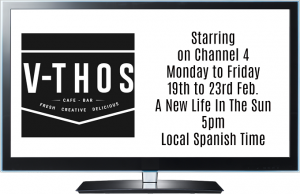 We found out about this too late for today's show but as it will be on all week, here is the all the information provided by Lisa at V-Thos who stars in the show  😀 
Starting Monday 19th February at 5pm ( Spanish time)
"We will be featured in the UK TV program 'A New Life in the Sun' all this week. The journey of renovating our cafe and opening our doors for the first time back in June last year.
There will be lots of clips of Javea and Moraira, and some of you may well have a guest appearance too!!
We have no idea how it will be edited but we would love for you all to join us in reliving the experience of opening a brand new venture in Spain!
It will air in the UK at 16.00 on Channel 4 Monday to friday, so that will be 17.00hrs here in Spain.
If you would like to watch it but don't have English TV, you can live stream it at
https://easyview.eu/channel-4/
#TeamVthos 
UPDATE: It turned out a real success for them 🙂