The Riurau Film Festival arrives again in various locations in the Marina Alta with cinema and various activities for moviegoers and people from the audiovisual world. This year the tenth edition is celebrated, both of the festival and the Escola de Cinema Riurau. On September 11th, the last day of the contest, the special awards ceremony will take place in Javea.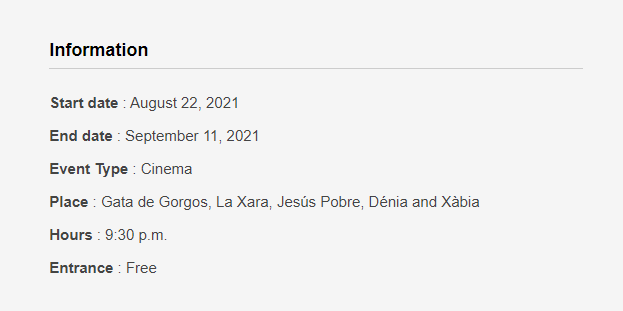 The municipalities that will receive the screenings are divided into those that surround the Montgó: on Friday, August 27 in Gata de Gorgos, on 28 in La Xara, on September 3 in Jesús Pobre, on 4 and 5 in Dénia and on 10 and 11 in Jàvea. This year, the Riurau Film Festival has 3,800 euros in prizes and has received 450 short films from up to 29 different countries.
Festival sections
The short film contest is divided into five sections for the 49 selected short films: Dance Film, Fiction in Valencian-Catalan, Social Fiction dedicated to Mental Health, Environment and the Sea and General Fiction. This last section integrates the films with LGTBIQ + themes, which wants to approach the Hollywood Protocol of normalizing the integration of this type of films.