By Tony Cabban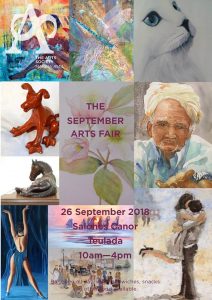 Inviting all local artists to exhibit. All types of art – painting, sculptor, jewellery, photography, textiles, etc.
After the success of last year's inaugural Art Fair, The Arts Society Marina Alta presents its second arts show this year on 26 September 2018. The venue is as before, the very attractive Salones Canor at Teulada. The exhibition space is large and bright, with air conditioning, tables, chairs….all you need to bring is your art work for sale! Last year proved to us that many people were attracted to this unique art show. Not only is it a very pleasant spot, there is also a bar open all day, with sandwiches, snacks and other food easily available. Many nationalities were represented both by artists and visitors and the day was rich with experiences and encounters for all.
Participants last year were united in their pleasure at sharing time together, exchanging views and seeing each other's work, added to which the pleasure of recognition and art work sold, what more could you wish for?
Don't delay email [email protected] for more information and to book your stand (€30 per stand)