Portal de la Marina has installed a giant piano to play music this Christmas.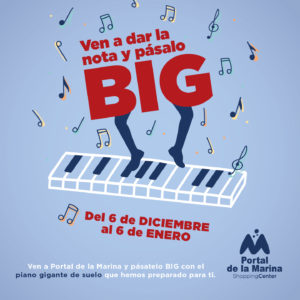 From December 6 to January 6, the mall has scheduled different activities for all audiences including a tribute to the 30th anniversary of the movie Big starred by Tom Hanks and managed to go down in history for its musical sequence with the giant piano.
This piano will be available for all ages from December 6 to January 6 in which you can demonstrate your musical skills.
As well as this novelty they have added the classic Christmas visits, led by a Father Christmas who will receive letters from children during December 22 and 23 . As always, he will attend to the wishes of the youngest children and take photos with those who want them.
Once in 2019, it will be the turn of Paje Real, who accompanied by his camel will visit the shopping centre on January 4.
All these activities will be surrounded by the new and modern Christmas lighting, which greeted Christmas last November with Gisela as a fairy godmother.