And who else but Irish Des will be there to entertain you on opening night?!
Des says…. "Its great news that the Irish Bar, An Shebeen in Javea is finally reopening after many years.
I am delighted to have been asked to play for their launch party this coming Thursday night (7th December) it promises to be a real blast.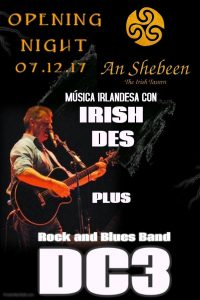 As well as playing a solo set of Irish music, I will be playing with DC3, so there will be a great mixture of Irish Music and Rock and Blues. The music starts at 10pm.
If you are out and about, do drop in join in the craic – its gonna be mega!