As many are aware, the newly named Oasis restaurant on the Arenal ( ex Moo) suffered quite a bit of damage yesterday when a chip pan caught alight and spread like… well yes… I suppose "wildfire" can actually be used here!!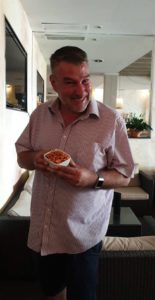 Paul, the owner, as many will know, is not one to down tools in the face of adversity and so, within 24 hours or so, he is back up and running behind that bar and ready to ply his customers with a drink, a wink and, as the only thing that is "hot and crispy" in there right now is the kitchen, you may be lucky and get a few of his nuts!!!
The fire was sudden and spread quickly, creating damage like this…..
But work is going on and the kitchen will be up and running very soon, although it has taken 230 boxes of Brillo Pads so far to get that pan clean! 😉  😉 
NO REALLY… I AM JOKING!!!!
So please, if you are heading to the Arenal over the weekend, please pop in and see Paulie. He will be so grateful and the measures will be, as usual, huge!!!
Finally, a little ditty to keep Paul smiling as I know that his lot lately, has not been such a happy one.
Loraine xx