Next Saturday, December 15th,  Dénia will immerse itself fully in Christmas spirit with the brilliant Nit de la Llum.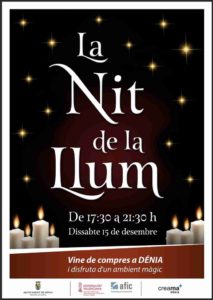 This year, the Nit de la Llum will begin at 5:30 p.m. and will go on until 9:30 p.m. During this time, thousands of candles will illuminate the streets of the historic centre in this event of unusual excitement, during which more than 70 shops and market  stalls will extend their opening hours until 11 pm.
The streets will be filled with music and dancing, choirs of Christmas carols, live jazz and the light of 7,000 candles distributed throughout the historic shopping centre. In some points, such as the Consell and the Constitució, the electric lighting will be turned off and the candles will be the only source of lighting, creating a unique atmosphere. In addition, many of the participating stores will offer their customers discounts and gifts until the closing time, scheduled at 9.30pm.
The choirs of the Peña flamenca Miguel Poveda, the Association of Fathers and Mothers of the Marist School (APAMAR), Al-Manchara and the Colla del Cànter collaborate in the initiative singing Christmas carols in various points of the urban centre.
Live jazz performances will be provided by the Original Dixieland Sedajazz quintet and the Nina Dynamite & La Swing Milicia group. Finally, at the initiative of the Toy Planet Trade (C/La Mar 15), Santa Claus will attend the establishment throughout the afternoon to children who want to deliver your letter.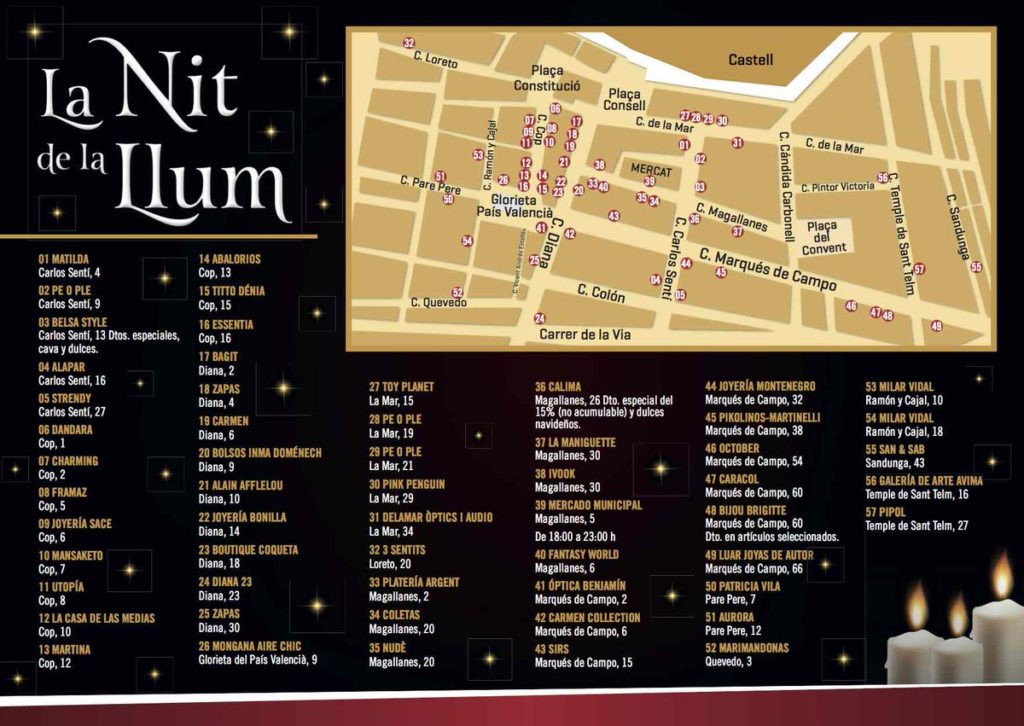 Source: Denia.com