Like a farmer sowing his seeds to eventually gather the fruits of his labour. 
However, this objective is quite different. They are criminals and they rob property. Organized groups have been detected in Malaga recently, who are specialised in "planting and marking".  These days, when many properties are not being used, these criminals take advantage of this situation to carry out their crimes.
The robbers choose their targets, taking into account several aspects . Firstly, no security cameras present to hinder them or record the facts. Secondly, the age of the residents living in the property or block. They are looking for middle-aged or elderly people, who are the ones who are most likely to have gold in their homes.
They are after gold, jewels and money – things easy to sell on the black market.
Once their target has been chosen, they go plant their markers, usually in groups of three or four and almost always, they are men. The markers are then placed in the door, near the hinges, using small pieces of transparent plastic or glue threads.
The timing for the "planting" is usually in the morning, but when it is a holiday period and/or high season, thieves such as these will act in the evening.
For instance, the gangs go up to the last floor of a block and from there they mark the target floors. To do this, they place a series of markers that are almost imperceptible. Small strips of transparent plastic or even a very fine thread of glue, which are usually placed in the part where the hinges of a door are located, normally the lower part.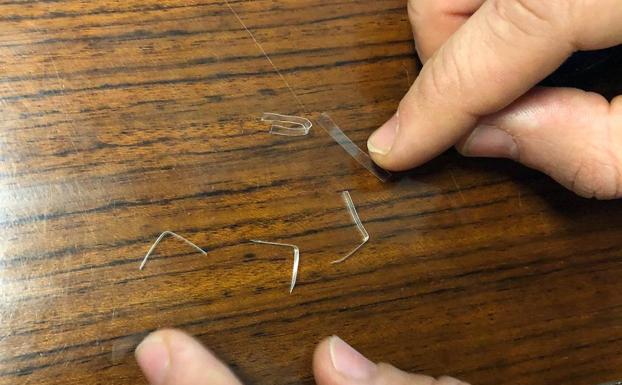 When a person returns to their home, these markers fall to the ground or the thread breaks without the owner noticing.  After three or four days, the thieves return to the block to commit the robberies. If the markers are not there, they abandon plans for that, but if it is still in place, they know that the house has not been inhabited since the theives put them in place, so they enter, forcing the lock…. and can work with peace of mind, knowing that the owners are unlikely to return anytime soon.
They usually act in the higher floors , as passing neigbours will be less likely. In addition, they choose specific locks, which are older and easier to open, so the national police recommend a series of security checks. "No matter which door, the most important thing is the lock you have on it!"
Once inside, the thieves tend to go straight for gold, money and jewelry. Therefore, the police recommend that they be stored in unusual places, in order to hinder the robbers. For example, they can be hidden somehere in the kitchen, which is a room where thieves do not usually go, since they mainly look in the bedrooms. If they do not find anything, it may result in broken floors or drawers. For example, if you leave money at home, it is advisable to leave "a bait" in a drawer of a dresser with a small amount and hide the rest in a less suspicious place.
Police Advice:-
Surveillance.

If you leave home for a few days, ask the neighbour check for any marks from time to time.

Finding a marker.

If one of these is seen in a door, immediately contact the police on 091.

The Intercom

It is important to answer calls, as thieves often call before stealing to check that there is no one in the house.

Locks.

They must be 'anti-dumping' or anti-fracture to offer greater resistance to criminals.

Sensors.

There are some sensors that can be installed in the door and when this is opened, they begin to emit a loud noise that drives away thieves.

Invisible lock.

It is another recommended item. It works with a remote control and so it increases the security of the home.

Prevention.

Close doors and windows, leaving a light on or a timer that performs this function.
Citizens are also advised to notify the police as soon as there is any suspicion.
Call 091. The police assure us that the criminals dedicated to planting usually follow a pattern: they are from eastern countries, usually slim, with a "bum bag" or small bag in which they carry the tools they use to open the locks and, when they meet with a neighbour, they usually turn their faces and thus hinder its subsequent recognition.
But the national police want to reassure people : "These criminals do not follow the victims to know their habits, they simply put a mark on their homes, at random, to see if they are occupied."
Police also insist that they are not violent or dangerous. They usually call the intercoms of the homes they are going to raid before doing so, to make sure there is no one inside.