From today, Monday 16th March and in compliance with the health recommendations and restrictions of the state of emergency, Javea city council has closed to the public the municipal units.
 Internally we continue to work, in shifts, to ensure minimum services in case of contagion
-We have suspended public works and activity of service companies such as pruning and maintenance of gardens
In addition to office buildings, cultural, educational and sports spaces, Amjasa, the Ecopark, Ramblars and the municipal Cemetery are also closed to the deceased but do not visit to the public).
All citizen care is redirected telephone and e-mail.
** Only Mercat and car parks remain open, as these are considered basic services.
 The rubbish collection service is maintained normally except for goods carried out at home.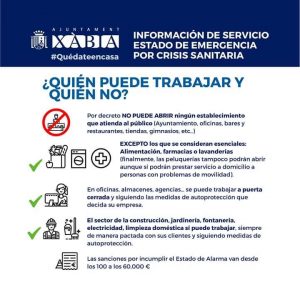 The executive is working from day to day on measures to support the local economy to alleviate the effects of this situation. Once the measures and guidelines of the State are made public – planned tomorrow Tuesday-the municipal actions can be realized.
For the moment, administrative deadlines for the payment of fees and taxes (trash, vehicles or public road occupation) are temporarily suspended
Local Police are ensuring compliance with the limitations in the movement of people  (identifying people who go through the public road or in access to the municipality), solving doubts and collaborating with commercial oulets  to regulate customer access.
Social Services, Public Health and Red Cross are being contacted to provide food to people at high risk or who are in isolation and without family network. People who want to collaborate with donations must contact Red Cross. 
Mayor, Jose Chulvi, wishes to send a message of serenity, and has made it clear that we are in the first phase of this emergency situation, so the absolute priority is health and to avoid infections. However, he is fully aware of the economic downfall that this situation will cause in many families and therefore – in collaboration with all political parties – the ways are being studied to support them.
Chulvi has asked the population accountability, cooperation and to be permanently informed by official channels.
Stay Home