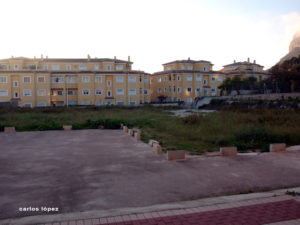 Javea City Council will call for a new public tender to award the work for the auditorium, after reracting the contract with Joca,  company that was initially contracted but pulled out after four months.
The mayor, José Chulvi and the councilman of Culture, Quico Moragues, announced that the Consistory has received the mandatory report of the Juridic Consultiu Council for the resolution of the contract with the construction and will now start the new procurement procedure. The Juridic Council – explained Chulvi – "supports each and every one of the procedures that the City Council has done".
In the next few days the contract termination will be formalized and new procedures will be initiated. In particular, he said, the municipal technicians "have to review the specifications and adapt them to the new Contracts Law". Asked about the deadlines to retake the works, Chulvi did not venture dates, but hopes to "start them as soon as possible.
Source : Xabia.com