The Civil Guard has arrested a 44-year-old Bulgarian man in Pedreguer as the alleged perpetrator of a crime against public health (cultivation of marijuana), and a crime of defrauding the electric company.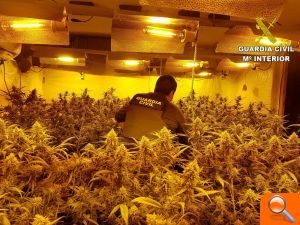 766 indoor cultivation plants, 2 kilograms of marijuana, and numerous electrical equipment capable of supplying 60 homes were seized! The alleged perpetrator has already been imprisoned.
The Civil Guard of El Vergel were led to a house in  ​​Pedreguer, giving off  a strong smell of marijuana, and constant "electrical buzz"and suspicions were obviously alerted!
When the agents performed a more thorough search of the house, they found strong security measures surroundig it, such as motion sensors, sound alarms and a network of threads placed as traps.
The 44-year-old Bulgarian man living there left the house very rarely, but he was consuming about 17,200 watts of light per day, a power capable of supplying 60 homes, thanks to an illegal electrical connection.
In total the agents found 766 marijuana plants, 2 kilograms of buds ready for distribution, 60 x 600w heat lamps, 60 transformers, 13 fans and 5 thermo-hygrometers, among other electrical appliances, as well as a manual peeler for marijuana plants, a vacuum packing machine and two vehicles.
The Bulgarian man was detained and is now in prison under order of the Denia court.
Story at El Periodic