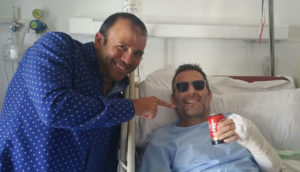 Dr. Cavadas from the Microsurgery and Reconstructive Surgery Unit of the Manises Hospital has operated on Javea's Scott Gordon, one of the cyclists who survived a multiple hit in May 2017 in Oliva. Scott has now gone through six femur operations after the accident and, after being operated by Dr Cavades he is now expected to be able to walk again without crutches.
The tragic collision occurred last May and the driver of the vehicle that ploughed into Scott and his companions tested positive for alcohol and drugs . In the accident, three cyclists died and two others were very seriously injured.
Pedro Cavadas is well known for undertaking some of the most successful operations in recent years.