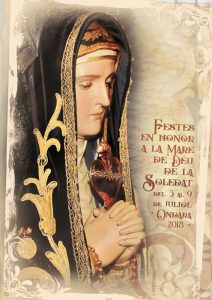 Ondara will be celebrating their patron saint's fiesta until the 9th July 2018. The fiesta is in honour of the Virgen de la los Desaparados and the Virgen de la Soledat. The programme includes giant paellas, processions, flower offerings, concerts and of course fireworks.
Friday 6th July
12:00 Ringing of the church bells.
12:45 Offering of the Laurel Crown in the cemetery.
22:30 Honouring of the Fiesta Queens at the Bull Ring
Saturday 7th July 
12:00 Parade by the Fiesta commission to the Recinte del Prado followed by tasting of Anis.
14:00 Giant Paella in the Recinte del Padro.
19:30 Carnival Parade. Route: leaving from the colegio Sanchis Guarner along Calles Dénia, Sant Jaume, Verge del Roser, Major, Sant Vicent y Plaza del Convent finishing in the Recinte del Padro.
Sunday 8th July
09:00 & 12:00 Mass at the church of Santa Anna.
20:30 Flower Offering at the Recinte Padro, followed by fireworks and partying in the Recinte del Padro.
Monday 9th July Fiestas of the Virgen de la Soledat
08:00 Ring of the church bells and Despertada, early morning music parade, through the streets of Ondara
12:00 Mass followed by Rocket display in the Plaza Major
21:30 Procession with the statue of the Virgen de la Soledat.
23:00 Spectacular firework display in the car park at Ronda Generalitat