Scallops are hosting an Easter Fundraiser …. 🙂 If you want to reserve a stall, you better be quick!!
Easter Fundraiser for Gandia Children's Home. Saturday 31st March (Easter Saturday )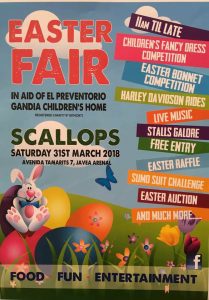 Only around a dozen stall pitches left now
Stalls are from 15€(1×2m table). Each stallholder MUST also bring a chocolate easter egg as part of the cost of their stall, these will be given to the children in the home.
Allocation for minimum of 45 stalls (in the Rose garden for those of you who know the restaurant) so should be a great day. 
Set up from 9.30am, to be ready for 11am. ( to run until late… assumed 3.30/4pm, but if busy then later, they want to run it late to make as much money as possible for the charity. 
Please contact : Carole 638 544 568 or Dawn 659 441 387
News of the entertainment throughout the day will be announced shortly.