There have been a few complaints one way and another on the Connect groups lately, so we thought we would bring this article back from the archives.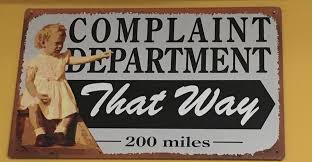 Facebook does encourage reviews, both positive and negative in order to improve business performance, particularly on FB Business Pages and at the end of the day, it is the way a business deals with criticism that matters the most. We do, therefore, urge people to write reviews on the company's Facebook Business Page if they have one, or on Trip Advisor, rather than post on groups, where the business in question may not be alerted.
Business Rules….
Business Advertisers :-Post only once per month with no bumping. ( Excess advertising will be deleted) Sponsors of our website may post once per week.
If a member has a grievance with any particular company, bar, restaurant etc, please take your complaint to the management of the business in the first instance. If you feel strongly that your complaint has not been addresses satisfactorily, then you are at liberty to ask them to provide the complaints book/Hojas de Reclamaciones  (click here for explanation)
If you still feel that the business did not respond satisfactorily to your complaint, and that members of JC should be alerted, then before you post, please check ( by using the search engine on JC) that the business is represented on the group so that they have a right to reply. If they are represented, then ensure that you tag them so that they will see a FB notification. This you may have to do by adding a "@" before the name.
If you have a problem doing this, then you can email us at  [email protected]
Naming and shaming of private individuals is not permitted at any time.
We hope this works for everyone !!
Advertising is available on the Javea Connect Business Hub where ratings are possible.
Finally here is the link to Facebook's Community Standards FYI.