GREAT CIRCUS WONDERLAND NEW 2018 SHOW – No Animals are used in the performances.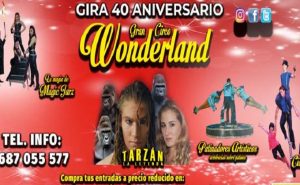 There have been many reviews of the show on the Javea Connect group, all of which, if I recall rightly, were more than favourable.
Tarzan Theme with 25 acrobats, trapeze artists, jugglers and funambulists.
35 people make up the Wonderland family and there are already 5 generations from Domenico and Ada to the small Meritxell, but the last generation is the one that gives more fruits of artists; Ivano, Jason, Glen, Sara, Karin, Diana, Alfio, Bruno, Randy, Alessia and Valeria also counting Pavel Valla, Ruth Polo, Ivano Ferro, Serafin Morais and family.
The only juggler in the world capable of launching 12 cylinders "Cristian Catenato".
"Pavel Valabertini" a group of 10 acrobatic cyclists,
the tightrope walker "Sara Jane" ,
All the superheroes you can imagine Batman, Superman, Thor, Hulk, Green Lantern, Spiderman, Ironman and many more in a comic-acrobatic parody.
All this, under the huge tents of the Great Circus Wonderland, more than 5000 M2 of infrastructure with 250,000 watts of lights, effects and robotics, more than 20,000 watts of sound, a capacity of more than 1,000 and locations that offer a perfect visibility.
Visit their website at Circo Wonderland for times, address and booking details.