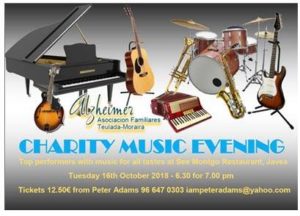 On Tuesday, 16th October there will be a charity Music Evening in support of the Alzheimer's Association in Teulada/Moraira, arranged, as usual, by Peter Adams.
The event will be held at the See Mongo Restaurant, next to the Go-Kart track in Javea Park. This will be the tenth of it's kind and it promises to be not only the best, but also the largest.
Peter is hoping to sell at least 180 tickets at 12.50€ each and although there will be some expenses, extra donations could take the final figure to 2000€, which has been achieved in the past.
The programme will be varied and will include some of the most talented musicians available on the Costa Blanca, including:-
Paisley Park One of the best groups on the Costa Blanca
The Enric Peidro Trio (Enric now has a national reputation and brings top musicians from UK and USA to play with his band)
Dolce Divas (i.e Claire Harkness-Post, well known soprano and flautist; accompanied by Kirsty Glenn on piano keyboard)
Tony and Anthony Rivers (vastly experienced entertainers, known and loved by many)
Dave Wood (who performs in many guises in different bands) who will be doing a folk set.
There really will be something for everybody and the standard will be impressive. The show will start at 7.00 pm and may not finish until 10.30. We always suggest that our audience should eat their main meal before coming as the venue can only do its best to offer small snacks at the interval.
The owners of the recently renovated venue have turned it into a place of real style and they are offering us the facility free of charge – in return for which all takings at the bar before and after the show as well as during the interval will offset their costs. This will be an all-ticket event to avoid disappointing people on the evening itself.