"When The Hotel Is The Journey"
NOMAD is a very unusual hotel… it is an approach to life, and the story of our personal lives. It could be your story.
Before we tell you more about us, please see the special offers we are running in January. (Click the photo below to take you direct to our website).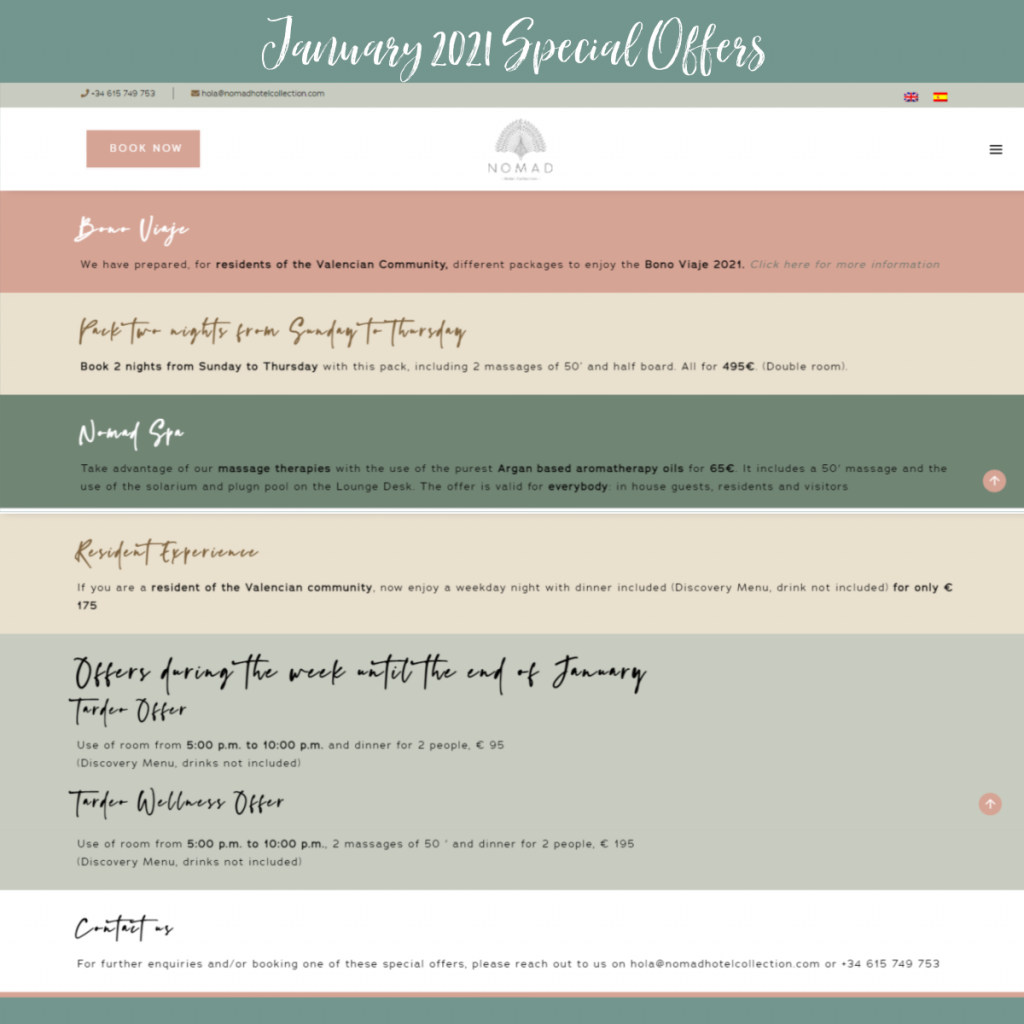 Ethos
Our ethos is Just Be. Stay Nomad! We want our guests to completely disconnect and fully live the present, away from their hectic lifestyles. OUR essence is inspired by travels, craftsmanship and cultural exchange, embracing the local traditions and environment, all coexisting in an eclectic style.
The Hotel
NOMAD Hotel in Javea Port is for travellers who value authenticity, craftmanship and simplicity. We are just a few metres from the waters of the blue-flag La Grava Beach, located in the charming Port of Javea, and surrounded by the Montgo mountains (known for its nature reserve and numerous trekking trails).
We have capacity for about 40 guests. It features Terra, our gastronomic fine casual Mediterranean restaurant, offering views on the seaside walkway; two rooftop terraces, with one hosting our Sky Bar (the "epic" cocktail destination of the Costa Blanca) and another one a lounge deck for relaxation and chilling; a treatment room will open by the Summer. Guests can also enjoy our NOMAD specialty coffee (100% Arabica) while reading a book by the fireplace. And you can soon also buy a selection of the decoration on display from our curated Travel Gallery.
We are proud to have dedicated, multi-lingual Guest Experience Managers, who are passionate about hospitality and people. They proactively guide our visitors from their initial enquiry to check out, and provide a highly personalized service.
Nomad Away
We aim to elevate the guest's experience during the whole NOMAD journey. We believe the real luxury is in the small things and soulful moments.
They are grounded in the hotel's day-to-day comfort, and enriched by meticulously curated "Nomad Away" experiences (e.g., morning sunrise picnic by boat in Cape San Antonio; personalised cultural walks to learn about the history of Valencian painter Sorolla; visit to the local "calas" on your Vespa; etc.).
Our Rooms
The hotel consists of 14 units (including 6 friends & family rooms with two bedrooms). All units are sea facing with balconies (for 2-bedroom units, one room is sea facing with balcony)
Cuisine
The hotel offers a distinct set of food & beverage experiences, including Terra, our "fine casual" Mediterranean restaurant on the seaside promenade; Sky Bar, our rooftop terrace where clients can indulge in our epic cocktails, while enjoying stunning views across Javea Bay.
We also serve tasty bites through Room Service, including our Nomad Essential Breakfast served from 9 am to 1 pm. Read more HERE
Your view as a guest!