The Original Charity Shop and Library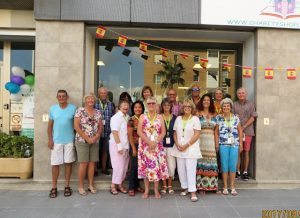 THE ORIGINAL CHARITY SHOP AND LIBRARY

If you think of a 'charity shop' – you will probably think of a small, possibly scruffy shop with rather tired second-hand clothes and sundry old and unwanted items.
INTERIOR OF THE ORIGINAL CHARITY SHOP
The Original Charity Shop in Javea is completely different. Yes it is staffed by volunteers (70 in total) and has previously owned goods but it is smart and spacious and has a considerable range of high quality new clothes and useful items at bargain prices. It has a remarkable 40 year history and has donated more than 134,000 euro over the last three years to deserving 'causes'.
We also offer a selling service, see our website for more information.
The shop is open from 10am until 1pm Monday to Saturday and has approximately 12 staff each day (of all nationalities). Numerous awards have been received by the shop.
Carrer Nancy 1

, Platja de l'Arenal,

Xàbia

03730