Spanish National Police have arrested a 36 years old British fugitive in Javea for allegedly assaulting three people in a knife attack at a Liverpool Bar.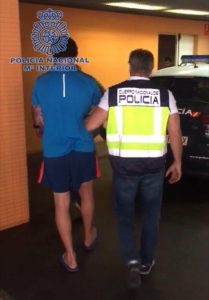 The arrest took place last Tuesday in a house near the Xàbia International College, which caused quite a nervous furore with parents of the students.
As reported by the National Police Headquarters, these events occurred in a bar in Liverpool. There was a fight between two customers, resulting in the detainee taking out a knife and slashing his opponent's face several times. He also attacked other customers who were trying to stop the violence. The detainee only stopped when the doorman managed to remove him from the premises.
The victim suffered badly and later had to have over 100 stitches on his face. Two other people also suffered minor injuries.
Police HQ reported that the arrest was carried out by the Judicial Police Brigade of the Provincial Police Station, when the officers established, via the UK police force, that the fugitive could be residing in Javea. 
The arrested man was placed under the jurisdiction of the National High Court to carry out the execution of the European Order of Arrest