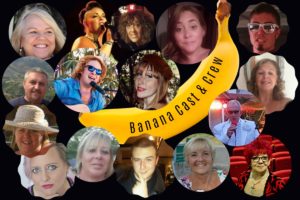 Bananadrama is an amateur theatrical group, formed in 2017 that perform solely for local charities. The cast and crew became a real family team after meeting up through our Facebook group, Javea Connect. They are a fantastic "family" who hope to raise a lot of funds for charity in the future as well as keeping local people entertained for a long time to come.
Meet the Cast and Crew … One by One
HANNAH WILLIAMS:
Ever since I was a young child I have loved to act whether it be on the stage or just as a means of getting what I wanted! As I took my journey through secondary school I didn't pay much attention to 'boring' subjects instead choosing to feed my love of dramatic arts by appearing in as many stage productions as I could fit in. One week I would be in the Portsmouth Guild Hall and the next in the Chichester Festival theatre once treading the boards though a particularly bad case of glandular fever. When I moved to Spain with my family in 1995 the first thing I did was to seek out a drama group so I could carry on with what I loved. I joined…..and was soon again quite happily appearing in pantos whilst taking my LAMDA exams. Sadly after a few years life got in the way and I hung up my dancing shoes to become a wife and mother, years passed but I still had this burning desire in my heart to get back to performing. Once my son was older I made the decision to put out the feelers and see where I would now fit in the amateur dramatics scene. Sadly I became ill with peripheral polyneuropathy and again my passion had to be put on the back burner. I had given up on acting again, who would want somebody who suffers from chronic pain and can't feel their feet?! Then one day I opened FB to see a post that has changed my life for the better. Someone was asking if anybody fancied putting on a local quirky performance , just for fun and to raise money for charity. Well, that flame flickered within my heart once more and I signed up at once.
Loving anything a bit strange and quirky I was excited about how this performance would take shape, who I would meet…and would I be able to make it through auditions without falling over! I'm happy to say that this project has brought me out of a shell that I had been living in for the past four years, I has made me see that just because circumstances change if you have enough passion for something you can find away to adapt to be able to continue to do what you love.