The arrival of their Majesties, Melchor, Gaspar and Baltasar is perhaps one of the most special events at the beginning of each new year.
Each year, the Magi visit the Marina Alta, Javea being one of the first points they visit with their arrival by boat. However, one of the municipalities in which this visit is lived with a special magic is in Gata de Gorgos with the staging of the Misteri dels Reis Mags.
On Thursday, December 27 the event will begin with the collection of letters by the royal viziers which takes place at 6:30 p.m. in the Plaza de la Iglesia. The Comissió de Festes del Santíssim Crist will offer a chocolate for all attendees.
On Friday, January 4, the royal messengers will visit the municipality at nightfall, touring its streets performing the traditional side announcing the arrival of the three kings the following day.
On Saturday 5, visit the La Paz Street and the Plaza de la Iglesia, the central points of the staging. At 6:30 p.m., the three Kings will visit the winter palace of King Herod to know the exact location of the birth of the baby Jesus. The court of the Jewish king and the sovereign himself, will receive with amazement the arrival and testimony of Melchior, Gaspar and Baltasar who will be directed to the portal of Bethlehem where they will recognize the God's child surrounded by the humble shepherds and the angels who will warn them of Herod's evil plan.
After the performance, the authentic cavalcade of the municipality of Gata will begin with the distribution of gifts. House by house, the busy pages of their Majesties, will deliver a multitude of packages.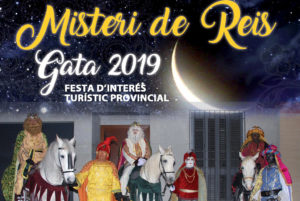 One more, the events have been organized by the group of volunteers that form the Comissió de Reis and the collaboration of the Department of Festivities.