UPDATED WITH COMPLETE LINE-UP OF ARTISTS AND BANDS  (We think… but maybe not all….we never know!)
For all those many people who knew Stewart Collier, this festival in his honour will need no introduction. For those that did not, Stewart was a icon of the music world here in Javea until his very sad and untimely death at last year. Stewart was a vibrant and incredibly talented musician who played the meanest of guitars in many music venues both here in Spain and in the Chichester and Portsmouth areas, where he was born and worked before moving to Javea.

He also tutored and encouraged many young and aspiring musicians who joined him at The Javea Rock Academy and who will always remember him.
And so, under the production management of Lasse Eriksson, there is to be a tribute concert to Stewart on 22nd September which will be held in the  Plaza de la Iglesias in the Old Town of Javea. Stage will be set up directly outside the Town Hall and facing opposite towards the church. Meaning it'll be situated between La Sucreria on one side and Palau de Javea on the other. Follow the Stewfest Page here
Update; As we're getting closer, things starts to take shape….
Running order during the Stewfest Javea;
18.00 to 19.30 – Javea Rock Academy Featuring;
EVENT HORIZON
– Cool alternative sounds from this versatile four piece.
Dayana – Vocals & Keyboards, Daisy – Bass Guitar & Vocals , Wolf – Lead Guitar
– Guest appearance with his former band ,Victor on Drums .
THE INDECISIVES
– Rocking the classics.
Dayana – Vocals & Bass Guitar,
Mikey – Guitar,
Luca – Guitar
Jude – Drums
THE UPRISING
– Power punk and hard rock vibes
Tom – Lead Vocals,
Monty – Lead Guitar,
Wolf – Bass Guitar,
Kacper – Drums
BREAK BETWEEN 19.30 to 20.00 (mass in church)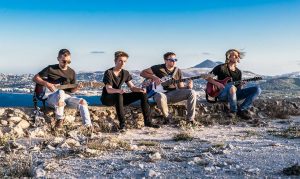 Part 2;
20.05 – 20.20
DAISY MAY TAYLOR performing some of her original material
both solo parts and supported with full band.
20.30 – 21.00
JOOLS COOPER & NIAMH OSHEEHAN
21.10 – 22.00
HAPPY FREUDS
22.10 – 23.00

THIEVES OF TIME
23.00 -> Midnight;
A Major Mix Up!
Backed by the Happy Freuds, additional performances to wrap up the evening in style.
Includes former guitar students of Stewart,
Also, Niamh OSheehan, Yvonne Larking, Robban Jansson and probably other stuff……
ALSO BE SURE TO POP IN TO PALAU FOR SOME WONDERFUL FOOD, DRINKS  AND FRIENDLY HOSPITALITY