The Auditorium in Teulada will host  a colorful production of "The Phantom of the Opera" by Andrew Lloyd Webber on Saturday, October 27, at 7:00 p.m.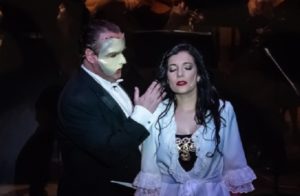 One of the most famous and beautifully written musicals. A fabulous production that will be performed in Spanish and in a staged concert.
More than 90 artists will take part, mostly professionals plus a choir, symphony orchestra, ballet dancers, singers and actors. Plus special effects, beautiful props, lighting, sound, and a very special wardrobe made especially for the occasion which will bring to life this emotional musical.
"The Phantom of the Opera", based on the French novel Le Fantôme de l'Opéra by Gastón Leroux, currently ranks first on the list of the longest running shows on Broadway history and the third on the list of of the West End, behind "The mousetrap" and "The Miserables". With more than 140 million viewers accumulated and global revenues exceeding 6,000 million dollars, 'The Phantom of the Opera' is the second highest-grossing theatrical production of all time, just behind "The Lion King".
'The Phantom of the Opera' tells one of the most unforgettable love stories that takes place in nineteenth-century Paris and has as its setting the famous Opera Garnier. In the catacombs of the theatre lives, hidden in the dark, Erik, a disfigured musical genius that is dedicated to horrify the cast of artists who work there. A series of accidents, altercations and deaths generates the rumor in the streets of Paris that the Opera Garnier is haunted by a ghost. The arrival of a virtuoso soprano will make Erik feel the greatest and most painful love, unleashing a history of jealousy and obsessive love that threatens to take the situation beyond the limits. 
ANDREW LLOYD WEBBER
In addition to 'The Phantom of the Opera', the award-winning English composer Andrew Lloyd Webber is famous for having created, among others, such popular works as' Jesucrito Superstar " Evita 'or' Cats', in addition to the beautiful song 'Amigos para siempre ', a paradigm of Barcelona 92, performed and recorded by Sarah Brightman and Josep Carreras. 
AUDITORIUM TEULADA MORAIRA
C / Orba, 2. 03725 Teulada 
Tel. 96 574 04 45 
Hours: 11 am to 1 pm and 6 pm to 8 pm – Wednesday to Saturday 
e-mail: [email protected] 
Web: www.auditoriteuladamoraira.es 
Facebook: www.facebook.com/auditoriteuladamoraira 
Twitter : @auditoriTM 
SALE OF TICKETS: 
TEULADA MORAIRA AUDITORIAL TICKETS 
From 11:00 am to 1:00 pm and 6:00 pm to 8:00 pm: Wednesday to Saturday 
Function Sunday: open 2 hours before
BUY YOUR TICKETS IN INSTANT TICKET
Discounts 
Discount for retirees, pensioners, children under 16, students and unemployed enrolled in the SEPA.
Source: https://xabiaaldia.com/