From the virtual program, the Moraira 2020 festivities ask all the people to exercise caution and to follow the established rules so that they can celebrate the 2021 festivities with more force than ever.
The festivities begin on Monday, July 13th, with the decoration of the town, which this time consists of inviting neighbours to decorate their windows and balconies and upload photographs to social networks.
On Tuesday, July 14, they are encouraged to dress in traditional dresses, go out with them to the balconies at 19:30 and upload the photos to social networks.
On Wednesday July 15th a mass will be celebrated in honour of the Virgen de los Desamparados at 8:00 pm in the Church of Moraira. At the end the joys will be sung to the Virgin
On Thursday, July 16, a mass will be celebrated at 8:00 pm in honor of the Virgen del Carmen and after her the Salve Marinera will be sung.
On Saturday May 18 you are encouraged to put on blouses and go to eat with each peña or commission and upload the photos tagging the Festeros Moraira 2020.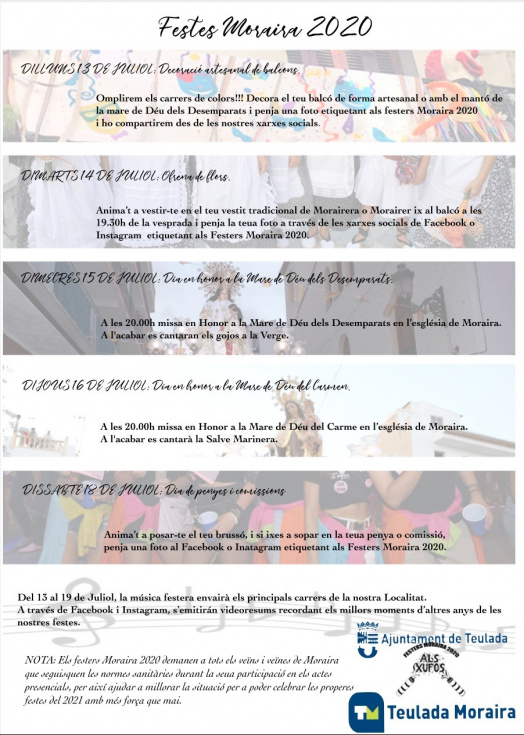 During these days the town will be filled with festive music and content will be shared through social networks remembering the best moments of other years.
The City Council encourages the entire population to be part of this virtual festival that the 2021 commission has prepared with such care and affection.