Well maybe just for a while….. But we could not let this day go by without wishing our "Belle of the Booblifters" lots of love and luck as she sets off on her journey back to the UK.  As she regains her "Pat" status, I know many of us will miss her terribly, but know that she will be happy rejoining her family, especially her gorgeous baby grandson.
Sue reached number 16 in the JC Wall of Fame last year and it seems fitting that our tribute to her will now stay online here for all eternity, lol.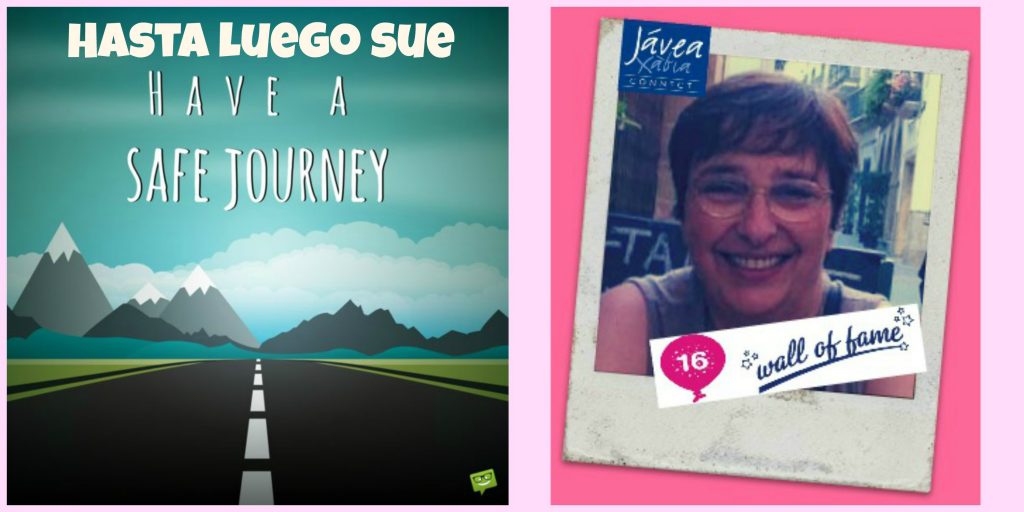 #16. Sue Faulkner on The Wall……
"I am pretty sure that all veterans of JC will know the "Bra-tastic" and "uplifting" personality Sue , proprietor of Javea's super little shop Lenceria Susan, which has just celebrated its 4th year in business in the Pueblo.
I have known Sue for many years now and she is certainly one of Javea's shining stars, not only when it comes to solving the weighty problems of the Muchachas , but also when any charity needs some help and promotion, she is always one of the first to step up and do what she can.
Sue and her super-plumber hubby Paul, moved to Javea almost 12 years ago from Haslemere in Surrey ( so she is a bit posh, lol) but still has family in the UK who I know, like many of us, she misses very much. Over the years she has made many friends here and it is easy to see why and so I can guarantee the "likes" on this post will be amazing

Well, Sue, your day has come. You are pinned up on the WAF at last!!"
And now we bid you a fond farewell and of course Hasta Pronto.
xxxxxxxx