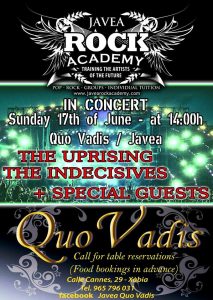 Please come along to Quo Vadis and support these young, local talented musicians and vocalists. 
Sunday 17th June from 2pm. 
Supported by a group of superb "grown-up" musicians, namely Christian, Enrico, Adam and Felix who all train these aspiring youngsters at Javea's Rock Academy, the afternoon is sure to be a great success.
Oh yes and don't forget to book your food/tables in advance  😀