BANANADRAMA PRESENTS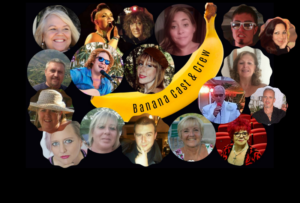 A show that sings and dances you through the olde streets of London, Baltimore, New York, Chicago…….
And of course, Transylvania…
A veritable "amuse bouche" revue with just a splash of adult humour and a sprinkling of nostalgia……
From General Monty to Monty Python                                                                        From Gilbert and Sullivan to Grease                                                                              From Maplins to Maracas                                                                                            From Burlesque to Circus                                                                                          From Covent to Convent                                                                                          From Opera to Anarchy                                                                                            From Marilyn to Minnie
With a great pre-show warm up by Poco-Loco Steel Band and starring some local celebrities and a few infamous characters at the Ondara theatre on Friday 30th November and Saturday 1st December. 
To book or collect tickets, see the poster below. ( Discounts available)
You can also message via the Bananadrama page  or call 683178070.