GREAT CIRCUS WONDERLAND NEW 2017 SHOW – No Animals are used in the performances.
There have been many reviews of the show on the Javea Connect group, all of which, if I recall rightly, were more than favourable.
To celebrate its 39th anniversary the Great Circus Wonderland presents two different shows.
The first part dedicated to the history of Peter Pan with 25 acrobats, trapeze artists, jugglers and funambulists.
Plus clowns…. 45 minutes where children and adults can enjoy a fairy tale circus.
Prpeare to enter a fantasy world full of fantasy with the adaptation of Peter Pan's story!
The second part will enjoy authentic circus with:-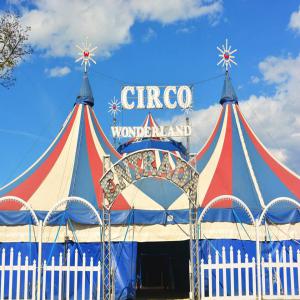 Randy Forgione aerial gymnast.
12 acrobats on unicycles, unique in the world !!
Sara Jane wire walker on steel cable.
Wonderland troupe, 5 acrobatic skaters
The clown Ringo with his new show 2017.
Bruno Macaggi (Cristian Catenato), recently chosen as best young circus artist of the year 2016
All this, under the huge tents of the Great Circus Wonderland, more than 5000 M2 of infrastructure with 250,000 watts of lights, effects and robotics, more than 20,000 watts of sound, a capacity of more than 1,000 and locations that offer a perfect visibility.
Visit their website at Circo Wonderland for times and  booking details.