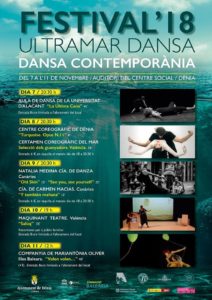 The Association for Argentine Tango has organized the IV Festival Dénia Tango to be held from 8 to 11 in November.
With the collaboration of the Department of Culture of the Ajuntament de Dénia and the presidents of the Association, Marilú Fischer and Doreen Sturzenegge, dozens of fans from different parts of the world will come together in this meeting to enjoy four days of festival with a lot of tango , Latin and ballroom dances.
The activities will be varied, being some of them outdoors, such as the milonga-dance with the participation of masters of the festival that will take place on Friday 9 in November, from 10 to 13 hours, in Marina de Denia. Classes will be taught in the hotel lounges of Les Rotes.
As is traditional, the festival will be closed with the White Parade, on November 11 Sunday, at the 11: 30 hours, at Marina Marina de Dénia. In the afternoon, at 19 hours, the show will take place The magic of tango in the Llebeig school hall. The price of the ticket is 10 euros.
Source: Denia.com