Baleària has organised a day open to the public and free at the maritime station of Dénia with children's inflatables, workshops, shows, concerts and a giant paella
The festival takes place next Saturday June 17th at its headquarters in Baleària Port Dénia to commemorate its 25 years of history in the sector of maritime transport. The shipping company has scheduled a fun day open to the public and free where you can enjoy activities for all ages such as inflatables, face painting and workshops for children, as well as music and dance shows. The maritime company, which will officially celebrate its quarter century on June 20th, will close the morning with the preparation of a giant paella for all attendees.
Furthermore, the Fundació Baleària has organised an act of homage to its group of volunteers who have contributed during their 20 years of involvement to deploy its mission throughout all the territories where the shipping company operates through cultural, social and environmental activities. The event will be accompanied by a musical performance by the Jazzmatiks band, a group from the Marina Alta who covers great musical successes in Valencian in a jazz key. During the day, attendees will also be able to enjoy the collective exhibition Formigues, created by artists from the Fundació.
The final touch of the Baleària popular festival will be put on by three musical bands collaborating with the Fundació Baleària. The Majorcan group O-Erra, the Valencian Pupil·les, and the Menorcan Pèl de Gall will enliven the evening with three concerts in the L'Androna hall of Baleària Port from 19.00 to 22.00.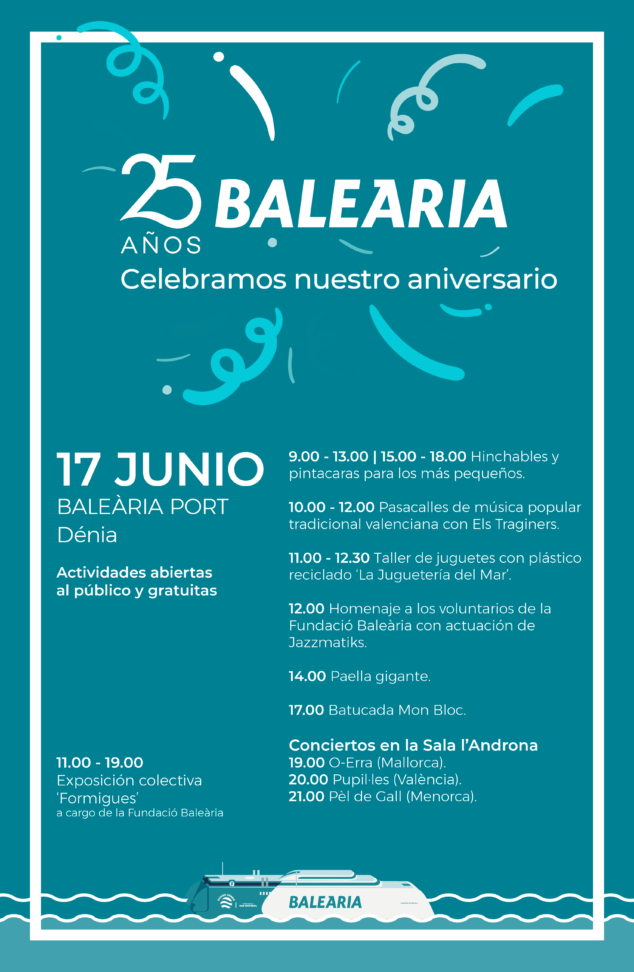 ---