Friday, June 23: Nit dels Focs
08:30 : Awaken performed by the Penya K-XON2 for its 10th anniversary, accompanied by the Colla of the Group of Danses Portitxol of Xàbia
11:30: Offering of grapes and figs to Sant Joan. During the parade the indult of the ninot  will be chosen and you can enjoy the Foguera of the Day Center in the Placeta of the Convent.
13:30: Cerveza a gogó in the Plaza de la Iglesia, where prizes will be presented to decorated streets, also Paella competition  and the Birratlon .
17:45: A meeting of all Charangas in Plaça de la Constitució, organized by Peña TOTS PER TERRA .
18:00 Parade of the Charangas through the streets of the Old Town.
19:00: CONTEST OF XARANGAS FOGUERES 2017 and awards ceremony (Plaza de la Constitución).
23:30: Traditional NIT DELS FOCS DE SANT JOAN , declared a festival of local tourist interest of the Valencian Community, organized by the Commission of Fogueres and with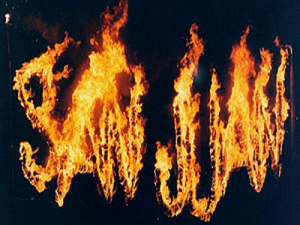 the collaboration of the Quintà 25 anniversary Dalt la Parra and the Center Excursionista de Xàbia. Next Cremà de la Foguera de Trastos vells in the street Raval de Baix, organized by the rock El Gerrot . 
Finally the spectacular Correfocs of Xarxa Teatre, from the Raval de Baix to the Plaza de la Constitución, plus, of course, some music to top it all off.   No work Tomorrow!!              
This is what to expect!  Nit dels Focs………