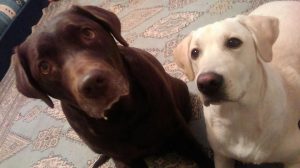 By guest "Doggy Blogger",  journalist and photographer Jo Pugh
We decided we needed a weekend break, the only thing is, we have two large Labradors, who we didn't want to leave behind. A hotel wouldn't be an option in case they needed to go to the toilet in the night, we needed somewhere with direct access to grass or gravel. Staying in a B & B could be disastrous with a one-year-old lunatic, who just happens to be called Marley after his film namesake.
So after hours of research (it was warm, the car journey had to be relatively short), I literally stumbled across Oasis Parks near Gandia – they had a dog park! So I booked a two bedroom bungalow (don't tell anyone that one bedroom was for the dogs!), and it was relatively cheap – two dogs, parking, and a two night self-catering stay was €168.30. I booked directly with the owner, Shaun, who couldn't have been more helpful.
We set off in the car – luckily our dogs are angels when travelling – and arrived in just over an hour. One bag for us, one for the dogs, and a coffee machine to boot!
The site manager then kindly offered us a larger bungalow with one bedroom, and looked totally perplexed when we said we would have the smaller one with two rooms, we couldn't tell him, could we!
The 'bungalow' is in fact a mobile home, but I had booked it specifically because it had an outside terrace. Using the pop-up dining table from inside the mobile home, we immediately had a small but perfect outside secure area for the dogs – small dogs would possibly get through the gaps, but for ours it was fine. Our bungalow also had optional air conditioning for €8 a day, but in fact, although it was 29 degrees, the breeze through the windows kept us very cool at night.
The site, we then discovered to our delight, not only has a dog park, but a locked one with just one key, so we could have the park to ourselves. It had a range of agility items, a 'poop' run, and the ultimate dog heaven – a fenced off dog swimming pool! It was perfect that it was gated off, because there was a choice of dry or wet dogs. Of course, we opened the gate, and Cookie, our chocolate lab, was straight in. Marley, being petrified of our pool, hesitated, then leapt in and went berserk, splashing and playing, eventually swimming beautifully.
After they had dried off, we popped the key back to reception, and ventured to the bar. Although the bar had a sign saying no dogs, there were quite a few in there, so we asked if ours were allowed in, and yes, they were, just into the conservatory area. Perfect. The dogs rested on the floor, and we chose from the extensive menu. The food, well, it was delicious, extremely good value for money – to the point of ridiculously cheap – and beautifully cooked.  The food ranges from bocadillos to a three-course menu del dia for just €8.50. A bottle of wine was just €4.
We had arrived quite late, so spent a couple of hours in the bar, then retired to bed.
The next day, we decided to walk the dogs early to the tiny village of Rugat, literally a flat 10-minute walk. We again found a lovely bar who welcomed the dogs warmly, and we had a quick coffee and orange juice before returning back to near the park, where there are plenty of long walks and waterfalls to discover.
With two tired but extremely happy dogs in tow, we then had a look around the many facilities that the park has to offer. A crazy golf course, a golf driving range, a basketball court, a children's play park, a heated outdoor pool, complete with sunbeds, and a stunning carp fishing lake (free, and rods are available – no dogs allowed). The lake is overlooked by some of the smaller caravans. These have a fridge and microwave but no toilet or showers, but I did have a look at the toilet and shower block, and it was not only modern, but immaculate – as was our mobile home.
The mobile home came with a fridge, cooker & TV, and the manager delivers all kitchen utensils for your stay in a crate, including plates and cups.
On walking around the site, I did note that one mobile home had a fenced outside area, which will be our next choice – I'm sure it was number MH40, but do check if you are booking.
The staff were so friendly, and Laura, Shaun's daughter, couldn't have actually been any nicer, and what a talented, hardworking chef and front-of-house she is.
The site is absolutely perfect for dogs, who must obviously be kept on leads at all times (unless your naughty Labrador decides to take the chair you had tied him to across the bar to greet another dog). There are also spacious camping and motorhome areas, so you can take your own if you wish.
All in all, we will be back, we had the most delightful time, as did Cookie and Marley (who thought he was famous).
For our first ever caravan park stay, wow, we loved it!
You can find Oasis Park at www.campingnatura.com or on booking.com